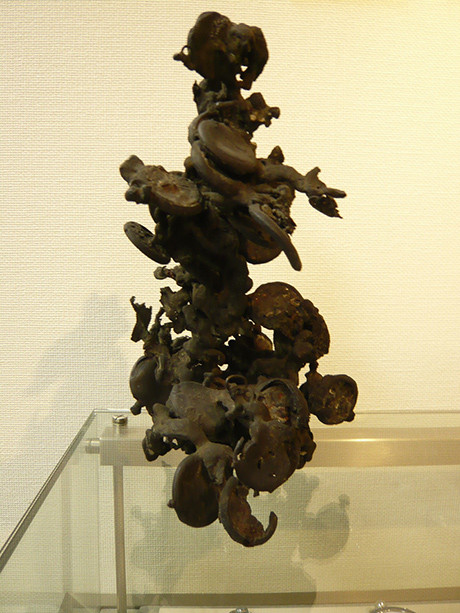 In September 1923, Seikosha Factory faced its greatest crisis ever, the Great Kanto Earthquake. The fires sparked by the earthquake reaped serious damage to Seikosha and Kintaro Hattori. The only part of the factory not decimated was a sole feed-water tower made of steel. Kintaro's residence and the temporary office he rented during the construction of the main store building were also destroyed.
Kintaro, already 62, was depressed for only day or two. Four days after the disaster he declared plans to rebuild the Seikosha Factory. Restoration work began at once.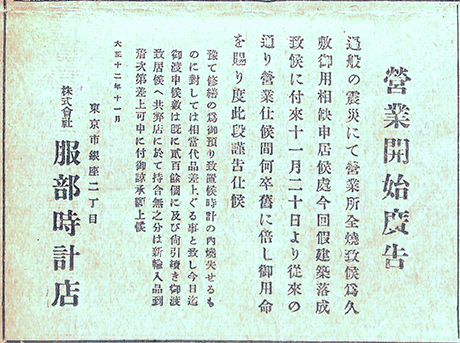 The sales section at K. Hattori & Co. started buying and wholesaling imported timepieces in mid-October and started full-scale business from a temporary store launched in November.
The earthquake had also destroyed about 1500 clocks and watches the factory had received from customers for repairs. Kintaro placed an advertisement in the paper and compensated customers who came forward by providing new equivalents. This gesture attracted a great deal of attention in the general public.
The production sector (Seikosha Factory) took a step toward restoration on the 1st of the following month. A temporary factory building was completed at the end of the month. Several more temporary factory buildings were constructed in 1924, the following year. The sector shipped wall clocks in March, pocket watch cases in April, and alarm clocks in September.
The extremely fast restoration was achieved mostly through the efforts of the people on hand at the factory.
And by a stroke of great luck, 60 to 70% of the burnt machine tools were still salvageable and useable after repairs.
In December of the same year, the production of wristwatches commenced under a new brand name, Seiko. A prototype that had been completed the day before the catastrophic earthquake luckily survived the fire. The new brand was born just as the nation prepared to conquer its difficulties and take a new step forward. The survival of the prototype helped K. Hattori restore the Seikosha Factory. The birth of the Seiko wristwatch spurred the modernization of the factory's manufacturing equipment and processes and laid the foundations for the company's subsequent developments and breakthroughs.