Escapement for the marine chronometer
The frequency of maritime accidents and collisions between ships rose sharply in Europe upon the advent of the Age of Discovery in the middle of the 15th century.
While navigators could calculate latitude by the height of the sun or the North Star, no method had yet been devised to calculate longitude, meaning they could not be sure of their own ship's position.
Yet if they could know the precise time, they would be able to measure their longitude. To this end, the British government solicited designs for a timepiece that could accurately keep time on a ship, offering a huge reward to whoever could develop such a marine chronometer.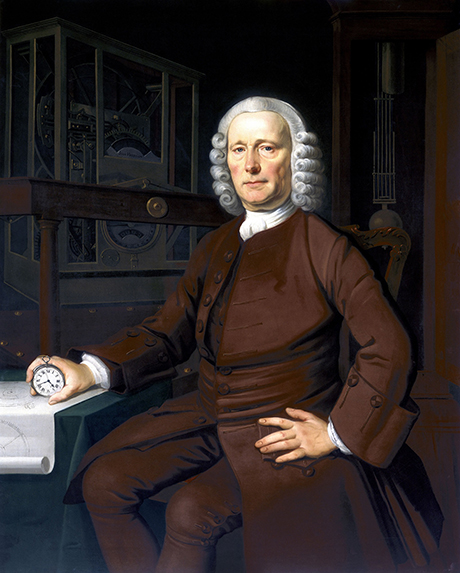 While many renowned scientists attempted and failed this challenge, the one to emerge victorious was the English carpenter and clockmaker John Harrison. In the 1720s he invented the "grasshopper escapement" that could withstand the friction and vibration on a rolling ship by reducing wear of the pallet on the escape wheel, and mounted this new escapement in his first marine chronometer, the H-1.
The detent escapement (chronometer escapement) widely used in mechanical chronometers

The escapement that became predominant for marine chronometers and other mechanical chronometers (high-precision timepieces), however, was the detent escapement (chronometer escapement). The French clockmaker Pierre Le Roy invented this device in 1748.

The French word détente means that something is not under pressure, and as the name implies, for the majority of the detent escapement's cycle, the balance can move freely. Because the balance encounters force from the escape wheel only once during the two swings of its cycle, its isochronism is maximized.
With the pallet and the escape wheel being nearly parallel to each other, the friction was minimal, and so there was little need even to oil the mechanism.
The British inventors John Arnold and Thomas Earnshaw improved the structure of Le Roy's invention by developing the spring detent escapement (flat spring type) that advanced the teeth of the escape wheel one by one via the elastic force of a flat spring, and then later introduced further improvements with the pivoted detent (axle-stopping type) escapement, which more accurately controlled the movement of the escape wheel teeth by the elastic force of a helical spring. Le Roy made great contributions to the field of clockmaking by paving the way to further development of the detent escapement, a foundation for the precision ultimately to be achieved in modern marine chronometers.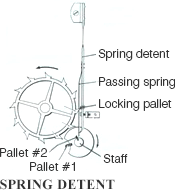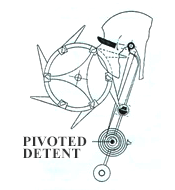 Because of their high precision, timepieces with detent escapements were used for standard time-keeping until quartz timepieces became the norm in the 1970s. However, because these timepieces were fragile, high-maintenance devices that could not restart automatically if the balance wheel was interrupted, they were not suited to use by the general public and did not become very widespread.
References
Ueno, Masuo, The story of timepieces. Hayakawa Shobo
Hirai, Sumio, The story of timepieces. Asahi Shimbun Publishing
Sobel, Deva, Longitude. Shoeisha
The story of time and timepieces. Akashi Municipal Planetarium
Here is some additional information