Part 3: Digital Stopwatch
In Part 1, we focused on the historical side of things, from the birth of the stopwatch to the first chronograph. In Part 2, we unveiled the history of the chronographs.
In Part 3, we pick up the stopwatches, especially the digital (type) stopwatches.
Generally speaking, digital (numeric) type stopwatches are superior to analog (hand) type stopwatches in time measurement.
The digital type can read time accurately because it has no parallax differences and can measure time easily at a high accuracy of 1/100 second. Moreover, since it is of a full-electron type that has no mechanical structure, it is much superior in cost and durability. For those reasons, the digital stopwatches have become the current mainstream.
World's First Digital Stopwatch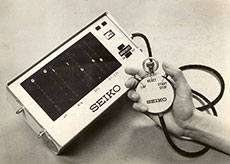 The world's first digital stopwatch was the Stop Clock, which Seiko developed as a time measuring device for distance running at the Tokyo Olympic Games in 1964.
This was developed in parallel with the world's first portable desktop crystal chronometer, which Seiko developed in 1963 as a master clock for distance running at the Tokyo Olympics.
As seen in the photo, the numeric display does not use the current 7-segment method but places indicating elements of 1 to 9 vertically for each digit of hour, minute, second, 1/10 second, and 1/100 second. This meant it was necessary to read the time from the numbers that were illuminated.
It was driven by batteries, and so was portable and could measure time in extended outdoor use.
The box-shaped case contained the time calculation function and the grip of the stopwatch contained the switch mechanism. It was named "Stop Clock" because it was too big to call it a "watch."
This Stop Clock measured the breathtaking world best (2 hours 12 minutes and 11 seconds) achieved by Abebe Bikila (Ethiopia) in the marathon at the 1964 Tokyo Olympics.
World's First Commercial Digital Time Measuring Device (Stopwatch)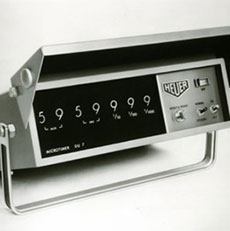 The first digital time measuring device to become commercially anywhere in the world was Heuer's Mikrotimer in 1966. It was a full-scale time measuring device that had a high measurement accuracy of 1/1000th second.
Because it used "indication discharge tubes" for the digital indicating elements, it had a high power consumption and a size that made people hesitate to call it a "stopwatch."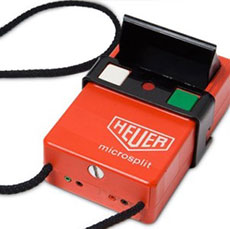 In 1973, Heuer released the world's first pocket-sized quartz sport timer Microsplit 820, with an accuracy of 1/100th second.
It employed LED (light emitting diodes) for the digital indicating elements and was downsized to a battery-driven, portable pocket size. However, since LEDs are self-luminous elements, it was hard to read the indications under direct sunlight (outdoors) and the power consumption was high.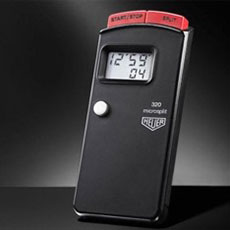 In 1975, Heuer released the world's first stopwatch "Microsplit 320," which had a light-receiving type indication device with low power consumption and which was easy to read under direct sunlight ("FE-type liquid crystal device").
This product, which was of a size and had functions that warranted the term "stopwatch," had a unique extended vertical design and suddenly appeared as an advanced stopwatch.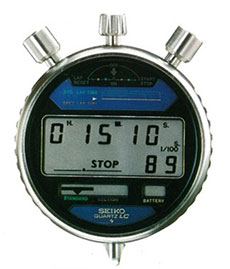 Next year (in 1976), Seiko released a digital stopwatch (8700).
It employed a round design that allows button operations with one hand, can measure 1/100th second, and was designed for a long battery life of 1,000 hours.
To realize highly accurate time measurement, it was equipped with a newly developed crystal oscillator of 512,000 Hz.
It was a full-scale stopwatch that had two elapsed time measurement functions: the split time (passage of time partway through an event) function and the lap time (elapsed time in an interval) function.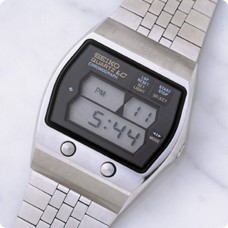 The previous year (1975), Seiko had released the world's first digital chronograph "Seiko LC Chronograph (0634)." This product, which had a stopwatch function, became a precursor of multi-functional digital watches.
Evolution of the Digital Stopwatch
While making full use of their characteristic of the full-electron type, stopwatches evolve rapidly.
The following describes the evolution of Seiko's stopwatches.
Arrival of the System Stopwatch with a Printer
In 1983, Seiko released the world's first stopwatch with a printer (system stopwatch). The aim was to popularize the "printing timer," which was actively used at the Tokyo Olympic Games in 1964.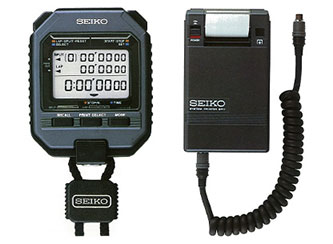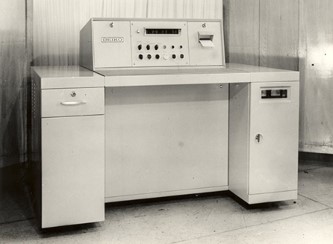 System Stopwatch with Communication Function (Seiko Timing Support System)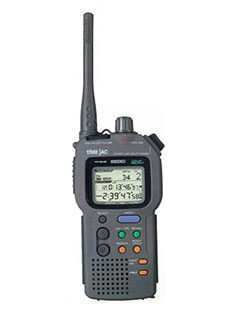 In 1996, Seiko released Time Jac, the world's first stopwatch with a transceiver (specified low power).
It has a remote function, which emits a start signal from one Time Jac to make multiple Time Jacs start at the same time, and a secret communication function among multiple Time Jac in one group. These functions are most effective especially in skiing and other competitions where the start and finish positions are remote from each other.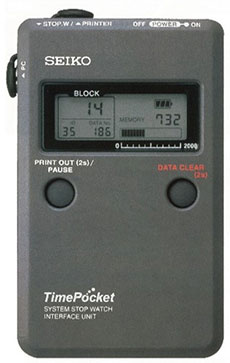 Furthermore, in the next year (1997), we released "TimePocket," which can transfer measured data to a PC, which realized high-level management, analysis, and graphic display, etc. of measured data.
New Applications of the Stopwatch
Industrial Stopwatch (Decimal)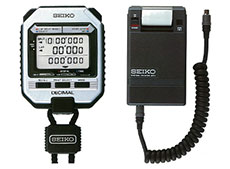 In 1983, Seiko released the industrial stopwatch with printer Decimal (1/100 second measurement).
This stopwatch considers 1/100th of one minute (60 seconds) as one second, which means that 100 seconds equals one minute (converting the sexagesimal system to the decimal system to make time calculation and analysis easier).
This product was used actively on IE (industrial engineering) sites for time research and process analysis in production lines.
Stopwatch for Music and Broadcasting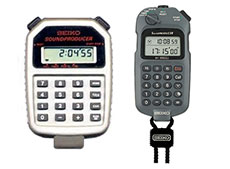 In 1984, "Seiko Sound Producer," which had the sexagesimal calculation function, was released. This product was used actively for time management at music, broadcasting, and film production sites and is now an essential item for people working in those areas. It was originally planned as a sexagesimal calculator for recording FM radio, which was popular at that time. However, because of its easy operation and portability—it can be hung around the neck—it has become an essential item on production sites. With a model change in 1995, this product has been a long seller for more than 30 years.
Subtraction Timer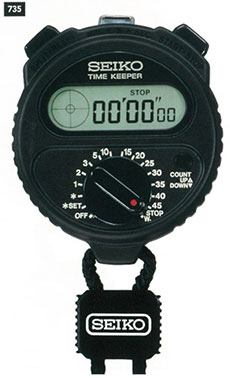 In 1984, Seiko released "Seiko Time Keeper" as a timer for sports that measures the remaining time in soccer, basketball, or other matches.
It employed a rotary switch that allows one-touch setting of the game time for most sports. That ease of use proved popular and the product has been widely used as a timer for not only sports but also schools and home. This is a long selling product that has been available for more than 30 years since its release.
TAG Heuer's Latest Digital Stopwatch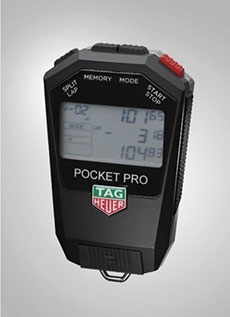 Finally, we introduce Pocket-Pro, the latest stopwatch offering of TAG Heuer, which has been exploring digital stopwatches.
This product was released in 2014 and is available in 9 models specializing in individual sports/fields. As such, it is a full-scale digital stopwatch with the ability to select the optimal special timing mode for each sport/field.
It can connect to a PC via a USB for easy archiving and analysis of timing data by downloading a free app.
Lastly
What do you think of the history of the chronograph and stopwatch, we reported in three parts?
The chronograph, especially the mechanical type, is still a star among complex watches. Interesting products should arrive in the future too.
Though a time measurement system is now used to measure time at sports competitions, stopwatches are still used during practice. How they will evolve in the future is just what yet to see.
References
Related Exhibits and Items in the Museum's Collection