Kintaro Hattori was born in Uneme-cho, Kyobashi, Tokyo, close to the present "Ginza 4-chome" intersection, on October 9, 1860. When Kintaro was 8, his father, an antique dealer by trade, sent him to a private elementary school called Seiundo. Even at that early age, Kintaro knew he wanted to become a merchant. In the spring of his 11th year he apprenticed himself to Tsujiya, a haberdashery wholesaler in Kyobashi who imported directly from abroad.
At 13 years of age Kintaro visited Kobayashi Clock Shop, a traditional clock shop established in the Edo period near Tsujiya. He decided to become a clockmaker.
"Business tends to get slow on rainy days, but the clerks at the Clock Shop still have plenty of repair work to do. They make money from both sales and repairs. They stay busy every day, never forced to waste precious TIME. I wonder if I could save up enough to start up a clock shop of my own. Not a bad idea, actually. Hmmm… I'll do it! I'll run a clock shop!"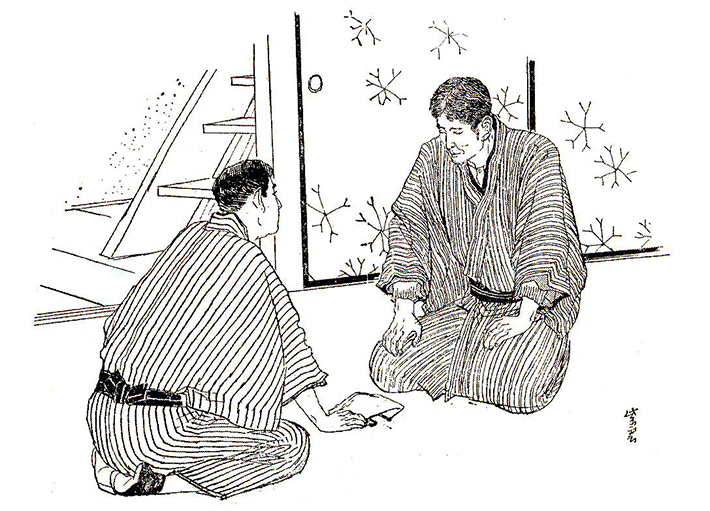 Deciding to be a timepiece dealer, Kintaro joined Kameda Clock Shop in Nihonbashi. Two years later he was transferred to Sakata Clock Shop in Ueno, where he learned how to both sell and repair timepieces. But not long after he joined, the shop owner was forced to declare bankruptcy and close the business. When Kintaro left the Clock Shop he expressed his gratitude to the owner, his master, by offering him the money he had saved while working there. The owner was deeply impressed. This episode is still recounted as an example of Kintaro's generosity and loyalty.
Returning home in 1877, Kintaro put up a signboard, "Hattori Clock Repairer," on the front of his house. He began selling and repairing secondhand timepieces at once. His new business was the predecessor of what was to become K. Hattori & Co. Over the same years he worked for a clock shop in Kyobashi run by an expert technician named Seijiro Sakurai. He was determined to learn as much as he could about the clock business and clock technologies.